Press Release
September 6, 2022
OpenX Awarded for Global Sustainability by Business Intelligence Group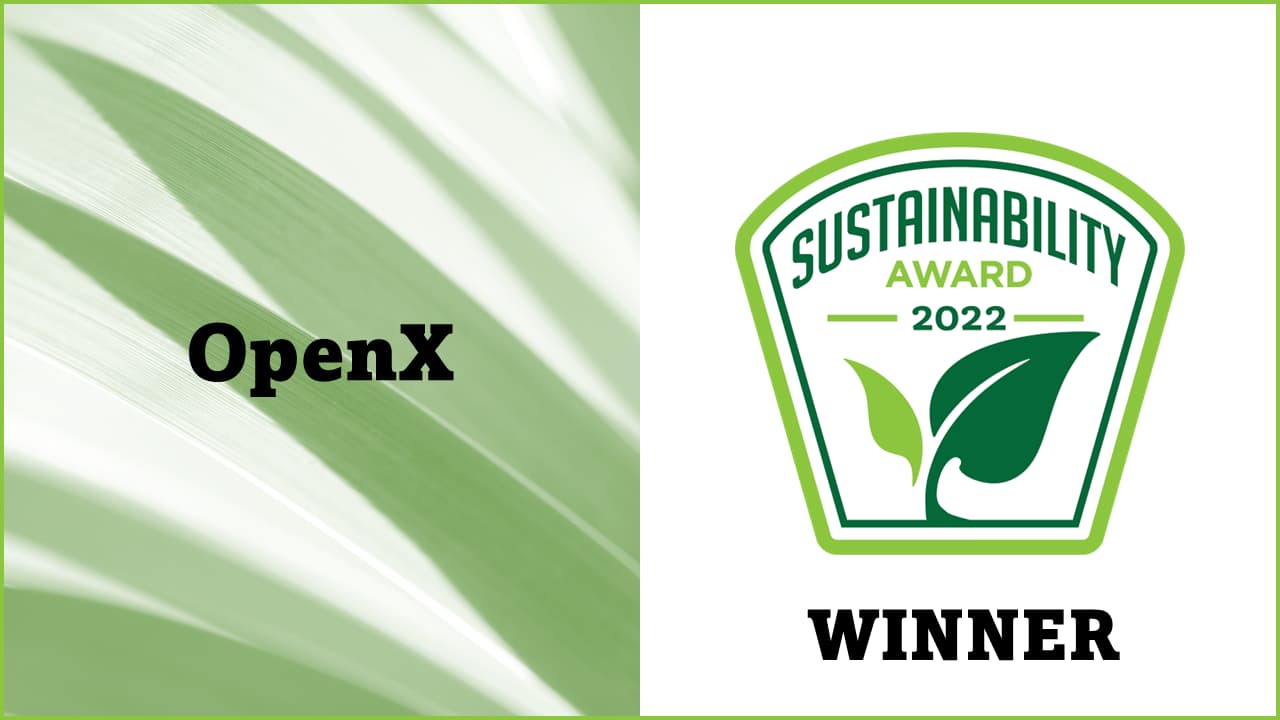 PASADENA, Calif., September 6, 2022 — Today, the Business Intelligence Group recognized OpenX, a leading global omnichannel advertising exchange, with a "Sustainability Leadership Award" in the 2022 Sustainability Awards program. The Sustainability Awards honor those people, teams and organizations who have made sustainability an integral part of their business practice or overall mission.
In May, OpenX announced details of the company's "Path to Net-Zero," a comprehensive initiative that has positioned it at the forefront of sustainability practices in the advertising industry. After reducing its own carbon emissions by more than 90 percent, OpenX is the first advertising exchange to be certified as a CarbonNeutral® Company by Climate Impact Partners; in addition, the company has become an official signatory of the Science Based Targets initiative pledge.
"We are proud to recognize and reward OpenX for their sustainability efforts," said Maria Jimenez, chief nominations officer, Business Intelligence Group. "It was clear to our judges that their vision and strategy will continue to deliver results toward a cleaner, more sustainable world. Congratulations!"
"OpenX is the only advertising exchange to achieve carbon neutral certification and because of this is in the unique position to help marketers around the world meet their own sustainability goals," said John Gentry, OpenX's chief executive officer. "Receiving recognition from the Business Intelligence Group on this critical and ongoing endeavor further amplifies the importance of this work and helps us continue to lead meaningful change in the advertising industry."
About OpenX
OpenX is a pioneering leader in advertising technology, helping create a world where the open web thrives. The company powers advertising on web, mobile and connected TV formats, enabling marketers to reach their target audience across OpenX's global network of publishers. OpenX works with more than 130,000 premium publishers and receives more than 250 billion ad requests every day. OpenX has been certified as a CarbonNeutral® company and is on a path to becoming one of the first companies in the world to achieve Net-Zero status. For more information, visit the company's website at www.openx.com.
About Business Intelligence Group
The Business Intelligence Group was founded with the mission of recognizing true talent and superior performance in the business world. Unlike other industry award programs, business executives—those with experience and knowledge—judge the programs. The organization's proprietary and unique scoring system selectively measures performance across multiple business domains and then rewards those companies whose achievements stand above those of their peers.